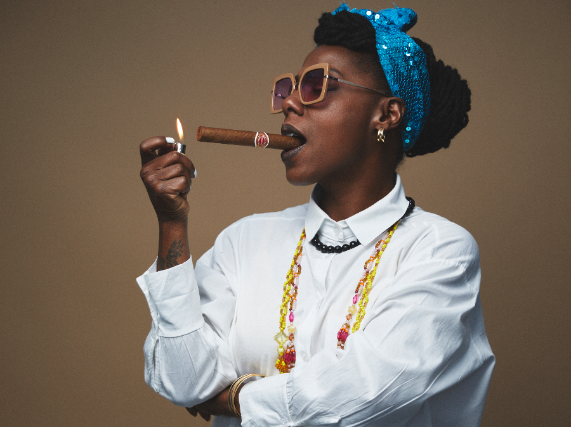 La Dame Blanche with Krudas Cubensi, DJ Antonio
November 8, 2023
8:00 pm
(Doors:

7:00 pm

)
All Ages
$35.00
La Dame Blanche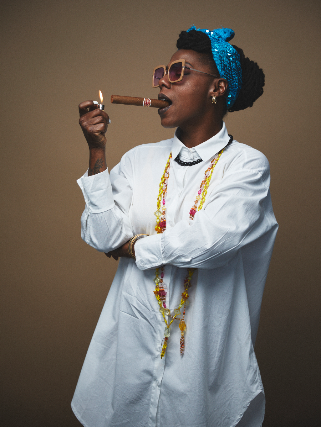 With her explosive mix of hip hop, cumbia, dancehall and reggae, the Cuban singer, flautist and percussionist Yaite Ramos Rodriguez, aka La Dame Blanche delivers a powerful and compelling sound which summons the spirits. The smoke of an inaugural cigar prior to setting foot on set, a glass of rum left backstage, necklaces, white flowers, a pristine turban: for her appearances on stage, La Dame Blanche feeds the energy of the spirits of Santeria, her Afro-Cuban religion. In real life, away from the limelight, this singer, flautist and percussionist is Yaite Ramos Rodriguez… A mischievous response during a conversation reveals her character: a slender and diaphanous figure, a legend who haunts nocturnal roads and the imagination of children all over the world. You have to believe the jokes and the evidence. Witty and charming, Yaite tames La Dame Blanche. Everything comes together. "There is Santeria spirit with a similar appearance. I felt her presence in the attic of a rectory." In the depth of her fortune-telling cards she deciphers good omens on behalf of that spirit. Yaite surrounds herself with supernatural forces, vibes and powers. She scrupulously observes her little shrine and says: "I don't speak often: you need to know you have to hide the weapons you will fight with." A family of musicians Before unfurling her costume Yaite has travelled a long and sometimes hard road. Everything starts in Cuba where she was born, in the heart of an awe inspiring musical cauldron on which reigns the figure of her father, Jesus "Aguaje" Ramos, an exceptional trombonist who is also the artistic director of the Orquesta Buena Vista Social Club. Family parties are gatherings of extraordinary musicians, the cream of Cuban music, to the sounds of thousands of songs and drums. Those celebrations feed the soul of the little girl but often leave her on the sidelines, intimidated and shy. She says: "My beautiful female cousins would divinely sing latin jazz and boleros. I was not as naturally talented as they were! I had to accomplish myself in a different way…" Yaite therefore other paths, learns how to play the classical flute at the conservatoire, and dreams of herself standing in front of a black pulpit wearing a demure dress. Later on she takes her first steps in the cabarets of Cuba. Finding her own language Then love strikes and takes her to Paris, the city of lights, the city of every sound. She says: "In my country, popular music was focused primarily on tradition: the sound, la rumba, the batá drums, etc. In Paris, all borders being open, there was a melting-pot of rhythms and melodies!" There Yaite sings in the all-girl salsa band Rumbana, joins the Grand Orchestre du Splendid, becomes back-up singer with Sergent Garcia and live singer for El Hijo de la Cumbia… Those experiences added to her emancipation from the family heritage to develop her own language, that of La Dame Blanche. She says, smiling: "It is the result of my frustrations, of my unfulfilled adventures." Out of her hip hop flow, the basis of her language, spring rage, energy, the taste of revenge, the cry of emergency. That root of her signature style, played out while remaining feminine and from the tips of claws, gets entangled with merry and wild offshoots of reggae, dancehall, cumbia, moombathon etc. Finally, on that sonic jungle organised in her image land the agile, celestial and anchored threnodies of her flute, with classical accents and sometimes Indian colours. Since his first "tinkerings", Marc "Babylotion" Damblé, the project's producer declares himself in love. Others prick up their ears. La Dame Blanche hits home, releases "Piratas" her first LP in 2014 and performs in prestigious venues such as the "Les Suds" festival in Arles. 2: the dynamite LP In 2016 she released her second LP, simply named 2. "I didn't find anything better." – she said. In her tracks she defends in a cry from a guts "stories yet to be told": stories of damaged friendships, of regained pride, of Olga la Loca, a woman possessed, of monstrous adventures, of boxing, of dancing, of an aunt who unhappy with her neighbours tries to escape her tomb. In a nutshell she sings of the men and the souls who have crossed and shaped her path, with her brothers' wrath and the revolt of the black struggle running through it. Joining this great party, this flamboyant and orgiastic round, is a slew of distinguished guests: Babylotion and Emiliano Gomez (El Hijo de la Cumbia, Ego 360) - production, direction and mix, Philippe Cohen-Solal (Gotan Project), Toy Selectah (Control Machette), DJ Nakeye, Flaco Nuñez (Orishas), her daughter Rachel, etc. Each brings their own colour to the first breath. Yaite, aka La Dame Blanche surrounds herself with vital forces, with spirits of flesh and bone, with the vibes that support her. 2 delivers its unstoppable energy: a bomb, a raised fist, like a cry of love, punchy, tribal and dancing. Under the same sky After sharing her unique cultural brew with audiences worldwide including at WOMEX, SXSW, WOMAD and globalFEST, she returns to us in 2018 with Bajo El Mismo Cielo (released on Nacional Records), an even more personal album, which talks about, among other subjects, the distance and the feeling of being far from his country and his family. It's also a bold and unapologetic declaration of who she is as a musician and black Cuban woman in a world where the African diaspora is more connected than ever before. The unifying nature of this album is its danceability, traversing multiple genres. La Dame Blanche worked with numerous musicians including Manteiga, a singer from the South African group Batuk on "Mentira"; Mexican duo Celso Piña and Serko Fu on "Dos Caras; Nelson Palacios, singer and Cuban multi- instrumentalist on "No Puedo Loco"; and Brazilian rapper Rincon Sapiência on "El Sumo Sacerdote." To give each of the songs an authenticity and identifying mood, she says, "These collaborations are a result each time of human encounters, friendship and respect." It also reinforces the message of the album title which translates to "under the same sky." She continues, "These are the words I found to trivialize distance and it is a message of brotherhood. If there is something that never changes, it is the fact that we all live under the same sky." A message of women empowerment Yaite releases his fourth album, "ELLA", in September 2020, again via the US label Nacional Records. "My dad was the person that I always wanted to impress", she tells, while confessing that "the entire world knew me as HIS daughter and that is one of the reasons I called this album ELLA (HER)." This fourth album by La Dame Blanche is a tribute to her mother, and all of the women that inhabit La Dame Blanche. "My mom makes everything shine, from the floors of the house to the music in my soul". This is the reason that "ELLA" has such a powerful and rebellious spirit, and is above all a tribute to women, with ten songs that represent all sides of the artist: in La Creyente, which was written during the news about the Amazon fires, Yaite shows her more spiritual side. La Maltratada is a cry for all of the women suffering abuse in the world. "ELLA" was recorded between Paris (Substudioz) and Mexico City (T-Vox Records) and produced by Marc "Babylotion" Damblé and includes beats by French artist Baja Frequencia (La Mulata) and Costarican artist Barzo (La Desconfiada). The cover art of the album was created by Romanian artist Livia Fălcaru. Rodriguez created a powerful, genre salad of an album with "ELLA". The album offers heart heavy hip-hop rubies, cumbia diamonds, dancehall gold laid with the finest, shiniest, catchiest, I-f***s-with-it-hardiest lyrical gems. The lyrics are mixed with varying ideas and sentiments that are not only expressed with her dynamic, riveting lyrics but also by the very vibes, tempo, speed, and power of the beats. "ELLA" is crafted with care. To send a message. Give perspective. Disrupt narratives. Empower women. Dance it up. With "ELLA", La Dame Blanche isn't scared to turn the mirror inwards in order to start much-needed conversations. Through her own empowerment, she encourages women to find their own. She peels her layers before our eyes without an inch of self-judgment and the result is absolutely powerful. Always more fans around the world The music never stops for her. In 2021 and 2022, she released a series of singles, including VENENO, a fierce and powerful track showcasing her skills as a singer as well as a flautist, and revealed by the artist's stunning performance premiered on a COLORS SHOW session. On the road again… and new music, new album Since making a triumphant return to the stage, after two pandemic years, La Dame Blanche has been unstoppable. She embarked on highly successful tours in the United States, with over 15 concerts in July 2022 and April 2023. Additionally, she thrilled audiences in Mexico with captivating performances, such as the iconic Vive Latino festival in Mexico City. Her vibrant sound and magnetic stage presence continued to captivate diverse audiences as she performed in France, Switzerland, Italy, Denmark, Spain, Belgium, and the United Kingdom. In April 2023 she also made her national TV debut in the US on Despierta America (Univision). In recent months, La Dame Blanche has not only been captivating audiences with her live performances but also making waves in the music industry through exciting collaborations. She has collaborated with acclaimed artists such as trans rapper from Puerto Rico Villano Antillano, Sol Pereyra and Juli Laso from Argentina, La Perla and Dawer X Damper from Colombia, Novalima from Peru, Chico Trujillo from Chile, and Nakury from Costa Rica. These collaborations have pushed the boundaries of her artistic expression and further solidified her position as a global musical powerhouse. And there are several more collaborations in the pipeline, set to be released in the coming months. Adding to the excitement, La Dame Blanche's highly anticipated fifth studio album "Atómica" will be released on November 3, 2023, under the esteemed label Nacional Records. Leading up to the album launch, she has planned the release of three captivating singles. The journey begins with "Bailarina" on July 21, followed by "Como Loba" on September 22, and "Los Fines de Semana" on October 20. These singles will offer a glimpse into the artist's evolving sound and serve as a prelude to the full album release. After many years in the country, Yaite finally obtained French nationality in early 2023.
Krudas Cubensi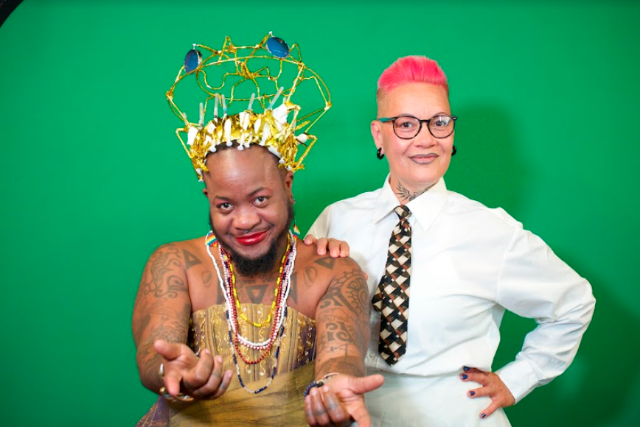 Internationally recognized as Krudas Cubensi, Odaymar & Oli are originally from Cuba, Queer, Trans Nonbinary Artivists, Feminist Hip-Hop Pioneers and Oakland California residents.
Krudas Cubensi are worker class Independent Musicians, Justice Fighters standing up for the communities they belong, black and indigenous people, trans people, woman, queers, immigrants and intersectional beings.
In 2023 they been working uninterruptedly in their new album Krudology and the great and only awarded music producer Greg Landau.
In 2021- 2022 school year they have been part of the Abolition Democracy Program of the University California Berkeley, as fellow artists developing a multidisciplinary intergenerational community project called Black Healing Portal.
From 2006 until today they have been performing, recording, organizing, leading, giving talks, workshops, educating and touring locally, nationally, globally and virtually, all independently and under self management in Europe, The Caribbean, North, Central and South America.
Krudxs Cubensi are always twisting powerful crispy flow, fierce feminist rebel lyrics & afro- cuban sounds to uplift a message that makes their delivery, irresistible.
In the Cuban nineties they developed into equity warriors, advocating against racism, homophobia and transphobia and created Krudas Cubensi.
Escaping censorship and looking for a better future, they decided to leave Cuba in 2006 and relocated to the US to pursue their dreams and internationalize their career.